Yoga in Tenerife: Practice Yoga with the sound of the sea and the Atlantic Ocean in view!
Welcome to Yoga Tenerife with Eva!
Yoga is the most beautiful way to get in contact with yourself. It is a journey to experience your entire body – no matter if you have Yoga experience or you are a beginner. As an experienced, certified Yoga teacher I will guide you through strengthening asanas, flowing movements and relaxing elements. You will gain strength, balance, flexibility and deep relaxation.
With a yoga class you do something incredibly good for yourself. Body and mind benefit equally from the yoga practice. In Tenerife you can do Yoga in beautiful places: On the beach, in the forest or in your holiday home.
I am from Germany and I moved to Tenerife in 2017. I have been practicing yoga myself for more than ten years. My training Yoga teacher training I did in India, Rishikesh.
Join my Yoga classes in Tenerife for beginners to advanced students!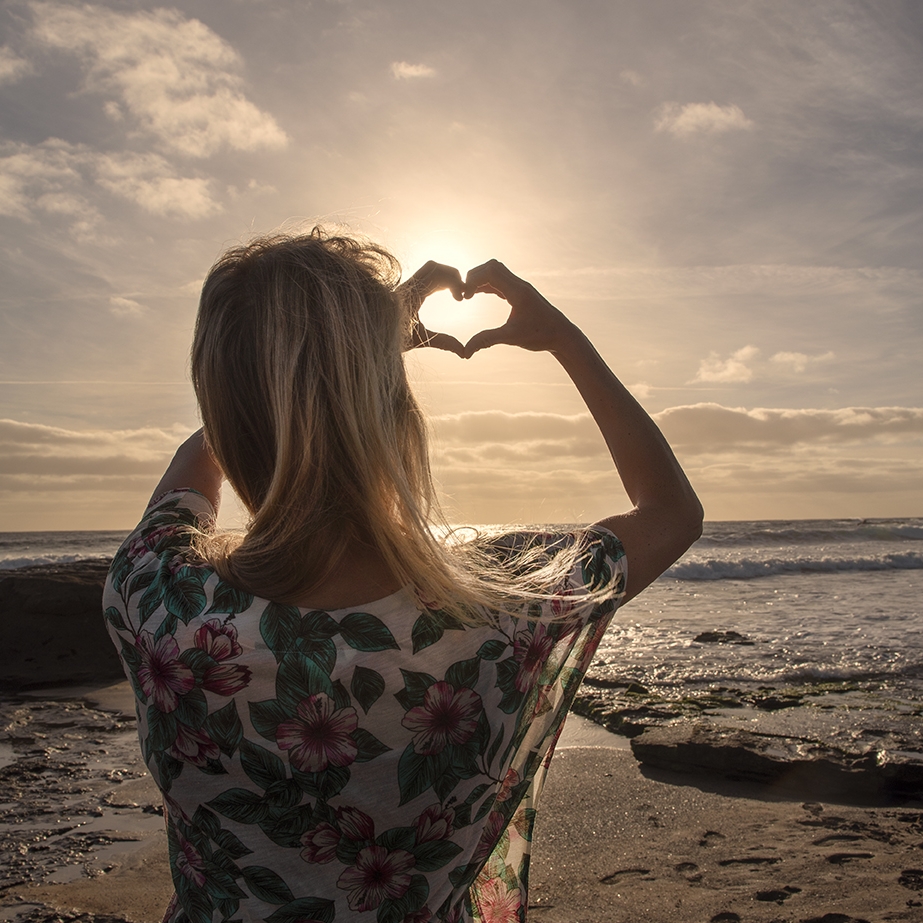 Join a Yoga class of a special kind: On the Canary Island in the middle of the Atlantic Ocean. Choose between a yoga class on the beach, in your accommodation or as a group class in El Médano!

Open Yoga Class
Every Wednesday there is a Yoga Class at the beach (8:30 – 9:30  and 17:00 – 18:00) in El Médano. The Class is in English and open for everyone!


Private Yoga Class
A yoga class totally customized for your needs. Benefit from an individual and loving training in German or English. Arrange an individual Yoga lesson now!

from 50€/Personal Training

Retreats
We offer Yoga days and Yoga retreats in Tenerife. Together with certified teachers I provide special packages for teams, families and groups. 
Time Table for Yoga in El Médano
Every Wednesday I teach Yoga on the beach in El Médano in English. You can choose between the Wake Up Yoga class in the morning (Wednesdays + Fridays from 8:30 – 09:30 am) or the Yoga afternoon class (Wednesdays from 17:00 – 18:00 pm).
You can also arrange individual yoga classes in English or German at your desired date and place with me.
WAKE UP YOGA
Every Wednesday + Friday
8:30 – 9:30 h
YOGA STRETCH
Every Wednesday
17:00 – 18:00 h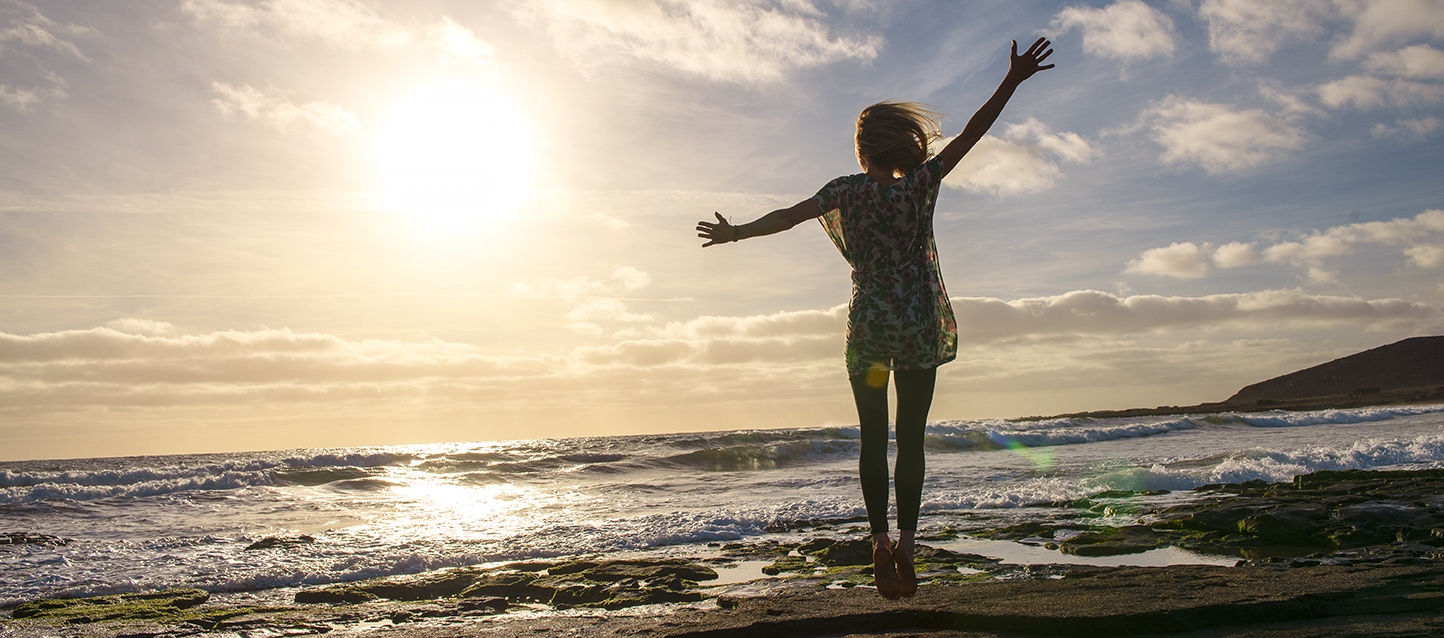 No matter what age, profession, previous experience or how flexible you are: Yoga is for everyone!
Yoga brings happiness, health and joy every day!
I adapt the Yoga class to your needs and your level.
Enjoy Yoga in Tenerife with a very special ambience and combined with the beauty of nature: On the beach, in the Laksmi Studio in El Médano or at your desired location on the sunny island.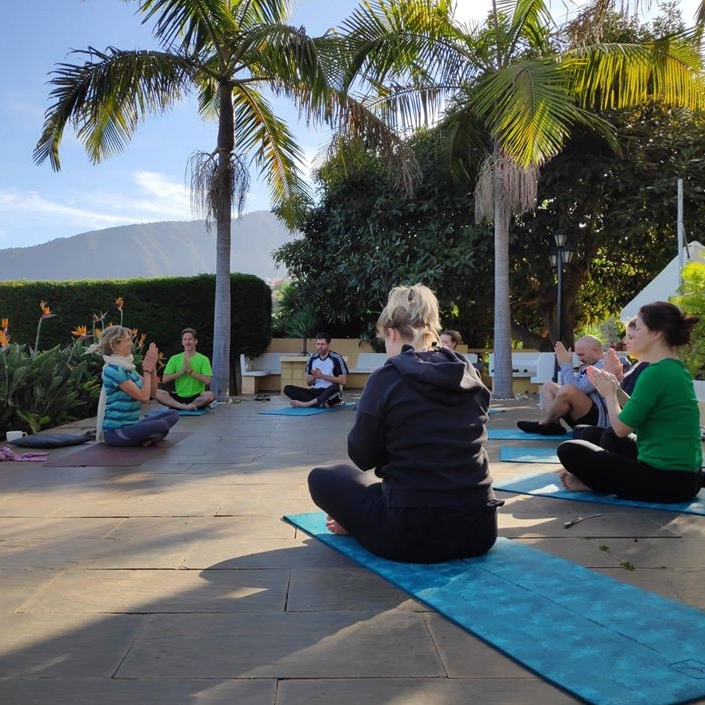 Why is Yoga so beneficial?

Stress reduction
Through the practice of yoga you calm your nervous system and gain inner peace for the stressful everyday life.

Strength building
Yoga is a total body workout to keep your whole body healthy, strong and flexible.
Body & Mind
Yoga is more than just the asana practice. It brings you into harmony and provides a balance between body and mind.

Keep young
Stay young and fit with Yoga! Many studies prove the positive effects of yoga on a long life and youth until old age.

Re-Engergize
After a yoga class you will not feel exhausted, but fresh and full of energy. Because of active and relaxing parts and conscious breathing.
Self knowledge
Yoga is the path to yourself. Treat yourself to a break on the yoga mat just for you! Get to know yourself and your body better.
Yoga with the sound of the sea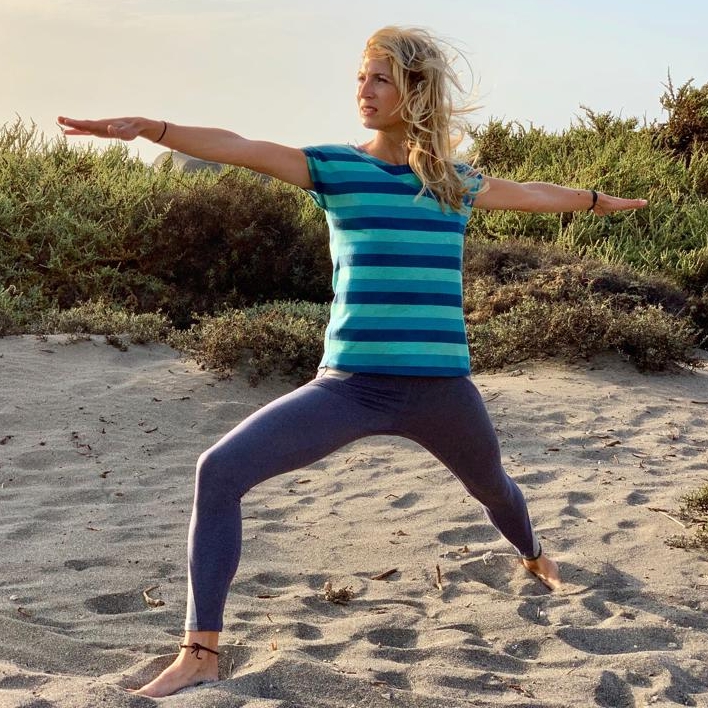 At the beach
Deep relaxation
The ocean in view and the waves in your ears: the perfect setting for a yoga class in Tenerife.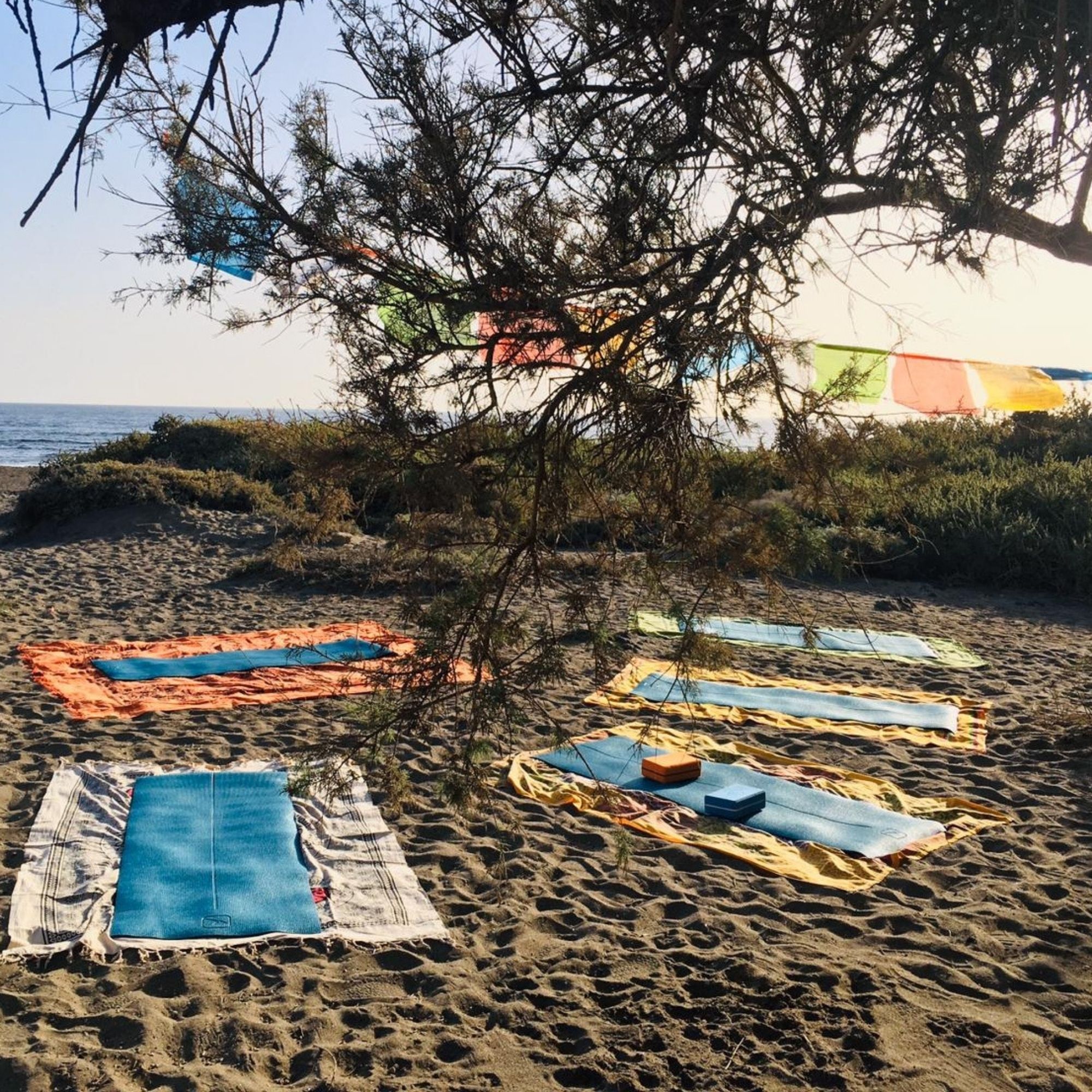 Outside all year
Fresh air
In Tenerife we can do yoga outside all year round – with perfect temperatures and in very special locations.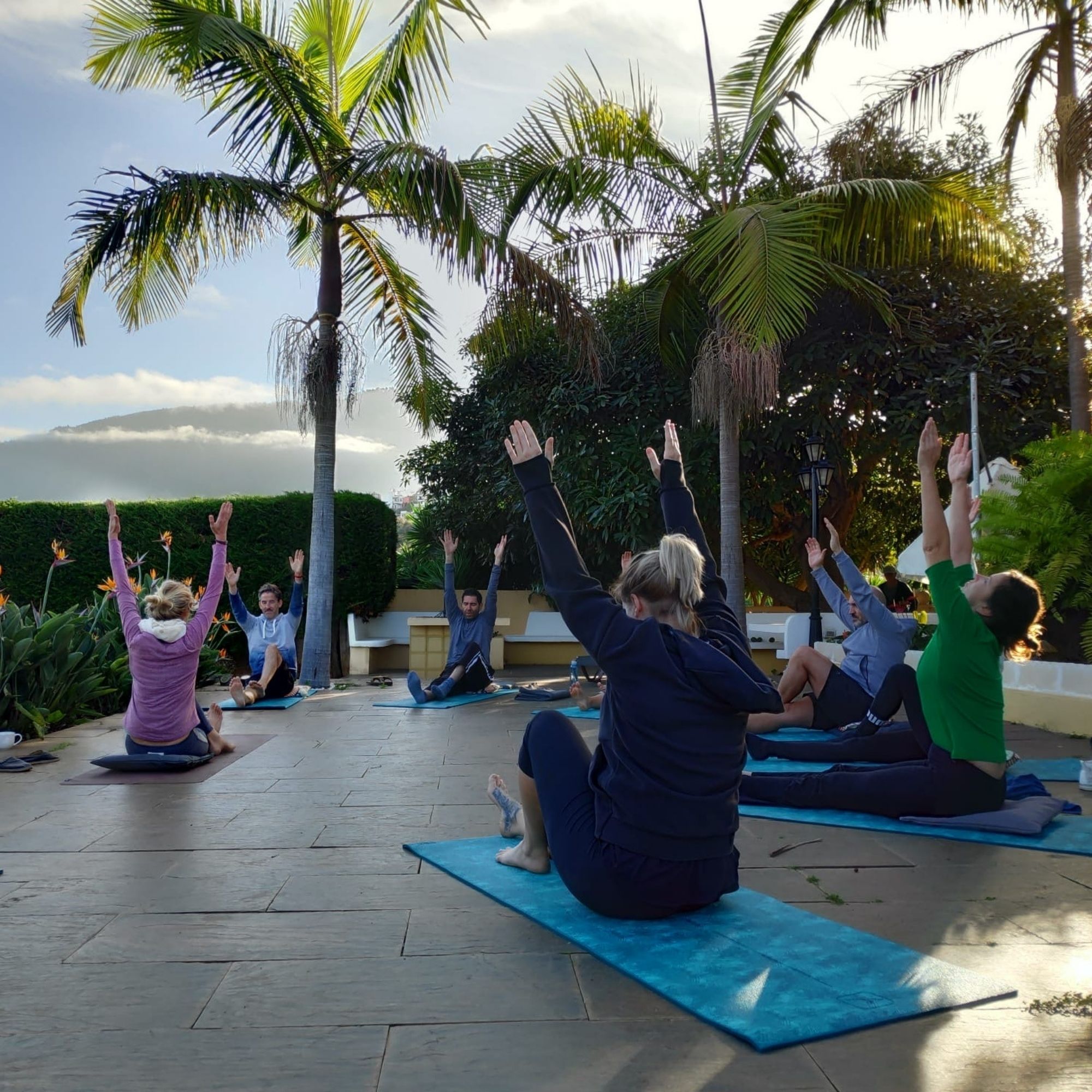 Enrich your day
Healthy & happy
Whether you are on vacation or living in Tenerife: Feel how great yoga is on the sunny island!
"I did yoga with Eva for the first time in my life. I liked it so much that I have been going to her class every Wednesday since then. As combination for surfing and kitesurfing it is perfect."
"Every Yoga lesson is different. Eva always adapts the lessons to the needs of the students. Sometimes the back, sometimes the neck or the balance is in focus. The yoga lesson flies by."
"Eva has brought back the love for yoga to me. Her classes are insanely great – you can let yourself go completely and feel very well looked after. After the lesson I am deeply relaxed and happy."
Ready to join a Yoga Class?
You live in Tenerife or you are on holidays? Then treat yourself and book a Yoga class! Contact me to join the group class or book a private Yoga class in English or German!